Living a purposeful life involves a lot of family traditions, and the Christmas Lights tour is one of our family's favorites. There is just something magical and beautiful about looking at Christmas lights. Every year we pack into our car and drive around the city to see the sights. We have checked out many different displays and light shows in the area, and we have narrowed it down to our favorite 8. This year we thought we would share our driving tour with you.
Tour Details
Our tour starts in Shawnee and ends in Olathe. If you live by one of the stops, start there and continue on the path. There are instructions on how to get from the last stop back to the first so you can circle back around to complete the whole trip. If you were to do the whole tour in one night it would be about 4 hours. This allows you 15-20 minutes at each light show and allows you to drive through the neighborhoods. If you do the whole tour in one night, we would recommend you start around 5:00 pm so you can end around 9:00. Several years we have done that, but most years we try to break it up into 2-3 shorter trips.
To make the night more successful and enjoyable for all, we pack a supper and a ton of snacks. For supper we do easy finger food options like meat, cheese and crackers.  We pack healthy food and not so healthy food. Then we eat it in courses. Only one food item comes out between stops so that we do not run out after stop number 3 and we don't get car sick from eating too fast. After viewing each sight, another round of food comes out. We make sure that everyone has water and then we surprise the kids with a fun drink too. Depending on the age of the kid it can be as easy as a juice box or as fun as hot chocolate or sparkling grape juice.
Helpful Tips
Get gas earlier in the day or the day before. It was a bummer to have to stop and get gas in the middle of the tour.
All this food and drink may require a bathroom break on the tour, so make sure your attire and footwear allow you to at least walk into a gas station.
Have Christmas music available to play between stops.
We bring Charlie Brown Christmas with us to play after the last stop on our way home. This helps the kids to start calming down for a good night's sleep.
Make sure the car is cleaned out so that the kids can get out of their seats at the musical displays and move around the car to get the best view.
Put someone in charge of making sure the headlights get turned back on after viewing a display. We learned from experience the importance of this one!  (Thank you, officer.)
If you need to stop midway through because of a melt down, do! End while you are ahead. Then plan another night to finish the ones you want to see or save them for another year.
Feel free to add or replace your family favorites into the tour.
The ones we picked are all free and normally have no lines. I know there are amazing displays all over the city and some parks that are must sees. We have decided that for us waiting in a long line is a deterrent, and for Nathan paying is a deterrent! For other family's traditions,  having a huge display in one place is worth it!
Some of you will say, "Hey, we don't live in Kansas City!"  No problem – I'm sure that there are some great displays in your area too.  Check out social media or local news sites to get some ideas.  Then clear your calendar, grab some snacks and the kids, and start making memories!
Download our route here: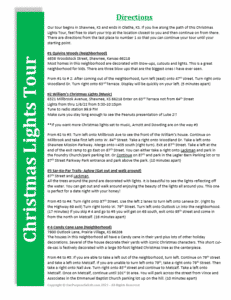 **If you can't do all 8, here are our top favorites:
Best Neighborhood Display: #5- This the most beautiful neighborhood ever!!  If you have littles, #1 is more fun and unforgettable!
Best Lights Display: #6 (#4 would normally win but it looks like they didn't do quite as many lights this year)
Best Walking Display: #7 -If you have never experienced this one, you should. It will be something you will never forget!
Best Date Night: #2 – Buy her a fun warm drink as you walk through the lighted path.
Best displays in shortest amount of time and distance- #4-7
We are always looking for great new displays.  What did we miss?  Share with us your family's favorite lights display!