There I stood in front of my tiny dorm room closet trying to decide which dress would be perfect for my first date with the man of my dreams
. I was thankful for my girlfriends who came to my rescue to help me decide. Especially since the decisions continued. Should I wear my hair curly or straight? Blue eye shadow or brown? I wanted to look beautiful, but not like I was trying too hard.
Slight panic started to set in as the minutes ticked away. Running out of time, I knew I shouldn't have gone to his intramural softball game that afternoon! But I wanted to earn some extra brownie points by cheering him on. So now, I had to decide
quickly
and keep moving.
The excitement of that date, the thrill of the adventure, and the joy of being with him still bring a smile to my face. Dating can be a lot of fun! What was your favorite date? Where did you go? What did you do?
One of our main pieces of marriage advice we like to give is "never stop dating your spouse." As we get older, we change. And because our likes, interests and hobbies change, we need to keep learning about each other if we are going to stay connected. One way to do that is to date, and date
continuously
.
Finding time to go on a date as a single, young person is
fairly
easy. It's something you can make time for and count on. Once married the dates
normally
continue for awhile. Then come the kids, house responsibilities and work obligations.
Dates
slowly
take a backseat to other responsibilities and time commitments until they become something of the past
.
What if this next year we bring dating back? What better Christmas present could you give your spouse than a promise to date this next year.
As I was reading Jon and Kathryn Gordon's book Relationship GRIT, I learned that the "I" stands for Invest. They say, "To have a great relationship you can't act like you are two separate teams. You must invest time and energy to become one team who support and encourage each other."
To learn how to
truly
support and encourage each other you need to spend time with each other. One way to do this is to go on dates.
It is true that different seasons allow for different types of dates and carry different budget allowances
. Don't let your current limitations stop you from being creative and making it happen. Here are some ideas and ways to get around the barriers. 
Find different walking/hiking trails to explore.

Play tennis, pickleball or ultimate frisbee at a local park.

Pack a picnic lunch and find a secluded location to enjoy it.

Ask for gift cards to your favorite restaurant for Christmas or Birthday.

Cook a new dish together to enjoy.

Do a movie night at home with all the supplies-popcorn, candy, drinks. Dim the lights and enjoy missing a scene or two.  : ) 
Have a breakfast date in the kitchen before anyone wakes up or dessert date after everyone is in bed. Order take out to make it even easier!

Swap babysitting nights with a friend. When our kids were little, we would watch our friend's kids for the night. At bedtime, I would even drive them back home and put them to bed. Our friends would stay out late for a free night of babysitting. Then the next month we would flip flop and we would get a LONG date night.

Intimacy hard to figure out? Take a shower together, you both have to get clean, right?

Play cards or your favorite board game after the kids are in bed.  If you use your imagination, there are a variety of ways you can make this fun and interesting.  
Lunch dates while the kids are at school are a must. Especially after a fight if you need space to talk it through without kids around.

Saturday morning brunch dates work well as the kids sleep in from the long week.

If you have older kids, leave them overnight for a night away.

Schedule it! Put it on the calendar and don't let yourself get double booked. Let a teammate bring them home from practices so you can get a night away.

Use a vacation/PTO day when they are away at summer camp. It's okay to invest in your marriage and take time off when the kids are gone.

Car dates.

Grab your favorite non-alcoholic drink or dessert and drive the kids to practice together

. If you have to be an Uber driver, at least have your favorite person with you.
Recreate your dates you went on when you were dating. Bonus: these were

probably

cheap dates since you were most likely young and poor.

Google or Pinterest some ideas. One website I have found helpful is

The Dating Divas

.

(Make sure there are no young eyes around when you click through their site!)

Create a date based on your spouse's top

love language

. Take the quiz if you don't know your love language.

Click

here

or

here

for a list of ideas-(I am new to these sites and haven't looked around to check content, but I liked these lists and wanted to share

.)

Write down what other people do that looks fun. Instead of being jealous of Instagram or Facebook posts, use the ideas to create a fun memory yourself.
There are two different lists you should always have on hand. The first is any time your spouse says, "I would like" or "It would be fun", write down the end of the statement. Use this list as an idea bank to plan your next date or gift.
The second list is once you go on a date, write it down! Life gets busy and time moves fast. Keeping track of your date nights helps you make sure you have a date often enough.  And at the end of the year you can spend time with your spouse re-living the fun memories you had together.  
We've made it easy for you by putting both of these lists into a handy download that will help you get your monthly dating plan in place for next year!  Download it here: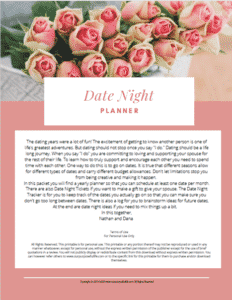 No matter what stage you are in, make dating your spouse a priority.
What will you do on your next date?
Other Resources: