Christmas is quickly approaching! I don't know about you, but I always find it hard to slow down and enjoy each moment of the holidays. It takes purposeful effort to keep Christ at the center of Christmas!  One way I have found to make sure we get a little Jesus into our holiday season is to pick out an Advent calendar to follow throughout the month. I have long ago given up on the idea that we will do every single day and every single activity, but even with a missed day here and there it is one of my favorite holiday traditions.
History and Meaning
Many of you are familiar with Advent, but here is a quick review.  "Advent" is from the Latin word for "coming," signifying that we are getting ready for Jesus to come.  The practice of celebrating Advent began a few hundred years after Christ, as church leaders solidified the habits and practices that the church would follow.  It is a beautiful time of reflecting on the monumental event that changed us all forever.  Just as John the Baptist prepared the way for Jesus, so also we prepare our hearts for His coming.  It is a time of hope, preparation, and excited expectation for what is to come.
Hustle and Bustle
We have all set aside 12/25 as a day to celebrate Jesus' coming to earth as a baby, but it is so important to set aside more than just one day. If we do not purposefully slow down and meditate on the reason for the season it will be buried beneath an avalanche of consumerism and empty (but tasty!) calories!  That is the beauty of Advent – each Sunday we remind ourselves that the Light of the World is Coming! It is a great opportunity to show your children what matters to you as a family.
Traditions – Join Us
We feel that the Advent month of preparation helps us focus on the real meaning of Christmas. So we invite you to join us in celebrating Advent this year as a family. Advent starts this year on Sunday, November 29th so you have time to get ready.
To prepare for Advent you will need 5 candles: 3 purple candles, 1 pink candle and 1 white candle for the center. You can also decorate the candles with evergreens which are a symbol of everlasting life. Kits can be bought at Hobby Lobby or any Christian book store, or you can make your own. If you don't have the right colored candles, you can just use any candles that you already own. The point of Advent is to prepare our hearts to connect with God, not to make sure we have the right candles!
Then print this Weekly Advent Guide to walk you through the scriptures to read and the songs to sing. We recommend each family member read a different part so that everyone can be included. You can either find the songs online or sing acapella. 
We hope that this guide will help you slow down once a week to help your family prepare for Christmas and create fond memories.  These spiritual conversations and traditions can make a big impact on your life and the lives of your entire family!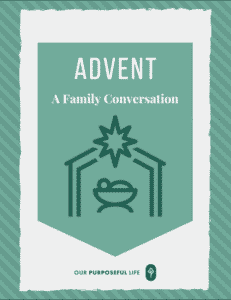 Other Resources:
Some years we have also done a daily Advent Calendar. (By "daily" I mean we attempt to do it daily, and when we forget we catch up later.) Doing a daily Advent calendar is one of my favorite Christmas traditions! If you are looking for one or want to change things up a bit, here are some of our favorites.
Journey to the Manger(Ages 8-12)
This is hands down my favorite!! I love anything that teaches us that the Bible is one continuous story from Genesis to Revelation. Each day you read about a different person who plays a role in the redemptive story. There is a passage of scripture and an activity page for each day. Then you add the person to the nativity scene. I laminated my poster and characters so we use the same one year after year.
When the kids were little we used a Fisher Price Pocket Advent Calendar similar to this one. Each day the kids would run to the door and pull out the next day's character or animal. Then they would place it on the nativity scene at the top. While simple, it created excitement and daily opportunity to talk about the real meaning of the season.
Buck Denver's Everyday Emmanuel
This one is focused on Advent. They give you guidance on how to celebrate Advent each Sunday as a family. There are also activities to do throughout the week to continue the conversation. Each week they answer a "Big Question" about Christmas. It is an excellent resource on explaining all the other traditions we have at Christmas time and how to tie them into the real meaning of Christmas. The online videos are not only informative but entertaining! 
What is your favorite Advent resource? Comment below!!