To trust someone they have to be trustworthy.
To praise someone they have to be praiseworthy.
To be grateful for what they have done you have to know what to be grateful for.
All of these, trust, praise, and gratitude require a relationship with someone. You have to be in a relationship with someone to trust them. To praise their name to others, you have to actually know them. It is only when you experience someone's love and care you can be grateful for that relationship.
Last week in my Bible study we were sharing prayer requests. One of the moms asked us to pray for her children. This is not uncommon at a moms Bible study, but I loved her request. She asked that her children would encounter God for themselves. That He would cause a breakthrough in their hearts and that they would desire to follow Him.
We can and should pray for math tests, English papers, championship games, and friends, but this is by far the most important thing we can pray for our children! That their hearts would experience God's saving grace, that they would fall in love with their maker and desire to seek Him with their whole heart, mind, soul and strength and that they would obey Him completely.
Bumping into Jesus
We can't make our children love God. We can't make our children obey Him. It is ultimately their decision, their choice. But what we can do is create an environment where they can bump into their Savior and Lord everywhere they turn.
Throughout the year we are going to share different ways we can encourage our children to seek the Lord and how to create environments in your home where they bump into their maker. Today we are going to focus on remembering all that He has done.
For the past many years we have placed a heart on our children's door every day from February 1-14th. Each heart has a message written on it. Some years it is prayers we are speaking over them. Other years it was a character trait or gifting we see in them. One year we did the promises of God. Check out this blog post for more information.
Building an Altar
This year we are going to put on their door our list of answered prayers. One of the best ways to fall in love with someone is to remember all that they have done for you. If we can remind our children how reliable and faithful God is and how much He has provided for them, they might just take another step closer to Him. It is crucial that we show our children how God has stuck with your family in the hard and messy. They will need this reminder during their next trial in life! It is equally important to point out how God has surprised your family with unexpected blessings. Knowing every good and perfect gift is from our loving Father will make them want to keep coming back to Him. Visually seeing all the answered prayers and amazing blessings we have been given will help to strengthen your children's faith. 
So this year instead of hearts, I am going to use rocks. I am going to follow the example of the Israelites when they took rocks out of the Jordan River and built an altar so that they would always remember what God had done when they went into the Promise Land. Since my kids are older, this year I am going to get the kids involved with the labeling of the rocks. I am going to have them make a list of the answers to prayers that they individually have had. Then as a family we will brainstorm prayers that have been answered for our whole family. 
Join Us!
Will you join me this year? Will you set aside time as a family to remember and talk about the answered prayers in your life? Maybe rocks on your bedroom door aren't your thing. Maybe putting them on a marker board or in a glass jar makes more sense for you. However you do it, invite your kids into a journey of remembering and celebrating all that God has done! 
Check out this printable to help you get started!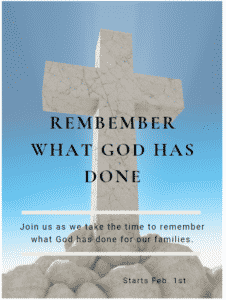 I will give thanks to the LORD with my whole heart; I will recount all of your wonderful deeds. -Psalm 9:1

Give thanks to the LORD and proclaim His greatness. Let the whole world know what He has done. Sing to Him; yes, sing His praises. Tell everyone about His wonderful deeds. Exult in His holy name; rejoice, you who worship the LORD. Search for the LORD and for His strength; continually seek Him. Remember the wonders He has performed, His miracles, and the rulings He has given. -Psalm 105:1-5

Rejoice always, pray without ceasing, give thanks in all circumstances; for this is the will of God in Christ Jesus for you. -1 Thessalonians 5:16-18

Understand, therefore, that the LORD your God is indeed God. He is the faithful God who keeps his covenant for a thousand generations and lavishes his unfailing love on those who love him and obey his commands. –

Deuteronomy 7:9