Purposeful Growth
Trust in the Lord with all your heart and lean not on your own understanding; in all your ways submit to Him and He will make your paths straight. Proverbs 3:5-6
This is one of my favorite Bible verses from my childhood. It is one of my go to verses when I don't know what decision to make. I quote this promise to myself and it brings me comfort knowing I am not alone in the decision making process. It also reminds me that I have a part to play in my life. When faced with a decision I have to trust God, not rely on my own human understanding of the situation, submit to His way of doing it and then the path will become clear to me. 
A Choice:
We grow and change every day, every year, every decade. Changing is a guarantee. But we have the option of choosing HOW we grow and in what ways we change. We have the blessing of choice. God has a perfect plan for our lives already laid out, but we have to decide if we want to get on board with it or not. One way I have found to make sure I stay on the path God has for me is in January to set goals or plans for the year. Life gets busy. I get distracted. I forget. But every January I take the time to reset, to slow down and have a conversation with the Lord. 
With God I look over last year's goals and think about the successes and look at the things that I forgot. I am reminded of habits that were broken and things that were accomplished. I am grateful for the lessons learned and the new skills I have gained. Then I take note of the progress I have made and look forward to the coming year.
Our Calling: 
God calls us to a life of holiness. He wants our lives to be full of the gifts of the spirit: love, joy, peace, patience, kindness, goodness, faithfulness, gentleness and self-control. God wants us to live a life free of fear, hate, greed and anxiety. Sounds glorious, right? I don't know about you but I don't naturally live this kind of life. I only do well when I stay focused and purposeful in what I do and how I think. This is where setting goals has helped me stay on track. 
I have a long list of things that I want to change or get better at. Frankly it can be overwhelming as I examine all my flaws and weaknesses. When we set goals we have to remember that life is a marathon, not a sprint. It is impossible to make all the corrections now, at the same time. But if we seek the Lord for what He has planned for this specific year we can become more holy one step at a time and one year at a time. 
Action Plan:
So how do you set goals? First you pray. Invite God into the conversation. Ask Him what He would like you to focus on for this coming year. Only He knows what you will face and what you need to do to prepare. When I set personal goals I have four different areas of focus: Spirit, Soul, Mind and Body. I have different questions that I ask myself under each category. See the printable for examples of my questions. 
Jesus replied, 'The most important commandment is this: 'Listen, O Israel! The LORD our God is the one and only LORD. And you must love the LORD your God with all your heart, all your soul, all your mind, and all your strength. The second is equally important: 'Love your neighbor as yourself. No other commandment is greater than these." Mark 12:29-31
Your goals should be focused on becoming the man or woman God has created you to be. Don't be overwhelmed by setting goals but see it as an opportunity for growth. It is a chance to walk in step with the Lord and see amazing things happen in your life and in the lives of those around you.
Check out the printable for ideas about what questions to ask yourself or areas to focus on. Feel free to adjust, change or add to any of these.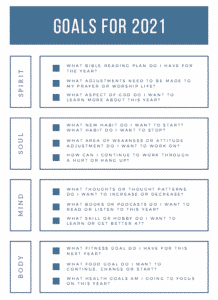 Posts You May Also Like:
How Do You Help Your Kids Make Goals?