At what age should you start setting goals? 18? 25? How about 3 years old? You might think that's extreme, but goal-setting is one of our favorite traditions!  Each year in January we pick a night to sit down as a family and reflect on the previous year. Then we spend time in prayer and ask the Lord what He would have for us as a family and individually for the next year. We set goals and write them down and discuss them as a family.
We started doing this in January of 2013, when our youngest was 4 months old. Our other kids were 3, 5 and 7. Each year since we have treasured this time of reflection and dreaming, and we hope that you will build this into your life's schedule as well. This is how we do it.
Year in Review
We pick a night that everyone is home and make our favorite snacks and drinks. Then we get out our old calendar and pictures. We talk about all that we did that year. Trips taken. Memories made. Parties and adventures. We talk about things we have accomplished and trials we have gone through. Then we give each child a sheet of paper that has four squares on it. In each square they can write or draw a picture of their favorite memory for each quarter of the year. Sometimes they have a hard time picking just one and they put several. 
Download the free 2020 Year In Review printable!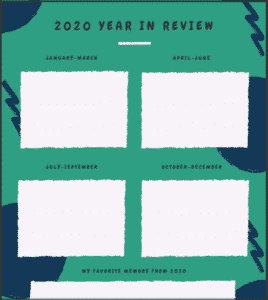 Kids' Questionnaire
Next we have the kids fill out a questionnaire. This is a great opportunity to get to know your kids' likes and dislikes a little better. It is also a way to take a snapshot of their life to remember forever. Their opinions change over the years just like ours do. After they have filled out a new sheet, we love to look back and see what their answers were when they were younger. 
Download the free Kid's Interview printable!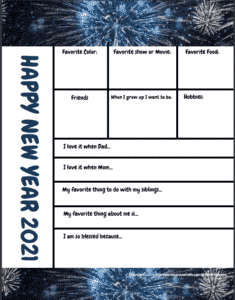 Kids' Goals
Last, we talk about what they want to do in the upcoming year. We focus on four main areas of growth: spiritual, educational, emotional and physical.
Spiritual Goals
For spiritual goals we help them pick a Bible reading plan to complete during the year. Sometimes it is specific devotion, other times it is specific books of the Bible. Then we ask them to focus on connecting with God. Which area of connecting to God do they want to focus on? Praying, journaling, reading or worship? Lastly, we see if there is one aspect of God that they want to learn more about that year.
Educational Goals
For educational goals we focus on something they want to get better at or learn more about. We think beyond school and what they are currently learning. What are they interested in? We also talk about what hobby or activity they would want to start, learn more about or improve their skills in.  This could include music or art or other extracurriculars, in addition to school subjects.  
Emotional Goals
For Emotional, we focus on an area they struggle in. This has so many possibilities from an inner struggle like anxiety to an outer struggle like saying kind words. Depending on the age of the kid and how hard the area is we limit it to 1-3 options. We want to make sure we set them up for success and not leave them defeated before they even start. We try really hard to let them come up with the area they need to work on rather than telling them our thoughts and wishes. However, sometimes you have to help them think of an idea. If this is the case then kindly suggest some possibilities. Choose your words wisely instead of saying "well you really need to work on this!" Say something like "I've noticed it is sometimes hard for you to handle these types of situations. Is there something you could work on that would help you be more successful when they happen again?"  The idea is to be real and honest, but also kind and hopeful.  
Physical Goals
For Physical we focus on their body. What sport do they want to get better at? Do they want to work on getting healthier or stronger? It can also be focused on a specific physical activity. Do they want to improve their bike riding skills, cartwheels, eating habits, etc? Even if they aren't athletic or care about sports, it is possible to come up with something that strengthens their bodies and keeps them healthy.  Maybe the goal is to build new habits like drinking enough water, going on family walks, and getting consistent amounts of sleep.  The Bible says that our bodies are a temple for the Holy Spirit, so we should take good care of them!  
Download the free Kids' Goals printable! 

Why Goals?
Setting goals is important. Writing them down sets you up for success. Making a plan makes it easier. Doing it makes progress. After the kids make their goals, we usually make a copy of it and place the sheet in a location in their room where they will see it. This helps them remember what goals they have set for the year. Some goals have obvious steps of action. Others are a little bit hard to figure out how to accomplish. With each goal they have set, help your child come up with a game plan to achieve it. 
Remind them that the point is for us to continue to grow and become the man or woman God created us to be. Goals help us achieve that, but they do not determine our identity. Our identity is set. We are a child of God and we will always be a child of God no matter what we do or don't accomplish. Goals will be changed and adjusted as we get older. Goals just help us stay on the path of growth.
Cherish the Moments!
We found that this family activity can be a wonderful time to sit back and reflect on the year, and to get excited for the year to come.  It is very gratifying to watch our kids begin to take ownership for their own growth and maturing.  After all, our purpose as parents is to prepare them to be self-reliant.  We hope that you will join us in cherishing the memories of another year with those who are most important to you!
You may also enjoy: