Bring out the camera! Bring out the signs! It is back to school time!! 
This summer flew by! I can't believe we are back to backpacks and making lunches. 
We have found that one of the best ways to have a successful school year is to start the year with prayer. Why don't you call everyone together this week and talk about the upcoming school year as a family?  Talk about the school year and pray through the answers to these questions: 
Conversations
What is everyone most excited about? What is one thing they are hoping to learn or do?

Is anyone nervous or afraid of any aspect of school? What are they not looking forward to doing?

How is everyone's friend-situation? Is there anything you can be praying specifically about their friend group?
Discuss ways that each person can be a light for Jesus and love their classmates and teachers well. What are ways you are going to help each other continue to do this throughout the school year?
Talk about ways for the kids to ask for help or to talk through fears or hurts with you. Remind the kids that you are a safe place for them to ask questions or voice their concerns. Start this school year off by figuring out a plan to check in with each other on a regular basis. 
Prayer
There is still a lot of fear and a lot of unknowns as we go into this school year. The only thing that is certain is God and His faithfulness to us. He promises that He will never leave us. God promises that He will give us peace, love and joy. He promises to give us wisdom and knowledge if we ask. He will protect us and lead us. 
Starting the year off with prayer is very important and good. It is important that we help our children to walk with Him every step of the day. Not a single one of us can successfully get through a day without Him. 
One way that we help our children start the day with God is to say a group prayer together on our way to school. We have it printed out and placed in our cars. Each day a different kid prays the prayer and we spend some time focusing on the One who can help us do everything we will need to do that day. We also take prayer requests and pray over any tests, quizzes, presentations or situations that anyone would like some extra prayer for. 
I am confident that these few minutes every school morning has protected us from problems, led us through issues, and has brought us a successful school year time and time again.
Join Us!
We want you to join us in praying for your kids, and leading them in praying for themselves!  You can download our prayers for this year to get 18 Scriptures to pray over your kids!  Use any one of these as your prayer, or you can use them as a starting point to help you brainstorm your own. Better yet, write the prayers with your children so that you can make sure you cover their hopes and fears for the school year. New challenges are new opportunities for deeper prayer.  It is powerful, and most importantly, it brings us closer to Jesus!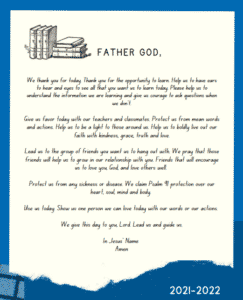 Need more ideas?  Check out last year's examples here.  Also, don't miss our post from last year's back to school season:  
We'd love to hear from you! What are your prayer habits? How do you start your school days?