What is the best gift you have ever received? How did it make you feel? How did it impact your life? Who gave it to you?
I don't know if this is THE best gift I have ever received, but one gift that I definitely cherish is my coffee bar. You see, I have always had visions of a cute coffee bar in the corner of my kitchen. A place where friends could gather and grab a warm cup of joe. It could also be a place that could contain all the junk that quickly gathers in the kitchen. This past May during quarantine, Nathan sat down with me and asked me questions: What do I want it to look like? What was its purpose?
Afterwards my handy hubby went to work. He involved all the kids, and by the end of the weekend I had a beautiful piece of furniture. Now every day as I pour my cup of coffee or tea, I smile with joy. This gift was built with sweat and love. The gift had purpose. This gift makes my life better, on a daily basis.
   
The Greatest Gift
As we head into the Christmas season I am reminded of an even greater gift that is available to each one of us. It too is a gift with a purpose. It also was a gift that involved a lot of sweat and a huge amount of love. I promise that this gift will also make your life better each and every day, if you decide to accept it. 
"Don't be afraid!" he said. "I bring you good news that will bring great joy to all people. The Savior—yes, the Messiah, the Lord—has been born today in Bethlehem, the city of David! Luke 2:10-11
Saved by Grace
God saved you by His grace when you believed. And you can't take credit for this; it is a gift from God. Ephesians 2:8
Did you know that you are in need of a Savior? For some of us that might be hard to admit, but the truth is we weren't created to do this life alone. Because of sin, we need help. Even though we have good intentions, our fallen nature gets in the way.  This occurs even at birth. Think about a toddler. What phrases do they often say?  "Mine! I do it! No!" And even before they can use words, they use their actions to try to get what they want. They don't care about the cost or how it affects others.  No toddler has to be taught to be selfish.  
Keep watch and pray, so that you will not give into temptation. For the spirit is willing, but the body is weak. Matthew 26:41
In Need of a Savior
We need a Savior to save us from our sinful nature and to save us from the temptations of the world. Life is a battle, and we can't do it alone. 
I don't know about you, but for me the greatest gift I have received is not something I can hold or touch. It is something that took place in my heart when I was 8 years old. It was then that I decided to make Jesus the Lord of my life. I admitted that I was a sinner in need of a Savior. I asked Jesus to come into my heart to save me, change me and lead me. 
Have you accepted this free gift that God has given each and every one of us? Has your child? It is our job as parents to teach our children that they too need a Savior.   They need to know that they have a free gift available to them and all they have to do is accept it.  But how do you have that conversation?  How do you lead them to Jesus?  
Family Conversation: Guide to Salvation
The Bible says that our primary job as parents is to have spiritual conversations with our kids.  At Our Purposeful Life we want to come alongside you to help you have spiritual conversations with your children. We want to equip you to talk with your kids about faith, true identity and God's purpose. We want to encourage you to begin and continue these conversations, and we want to help you navigate the questions that your kids will naturally ask.  Our hope is that your family will create an atmosphere where questions are welcomed and answers are discovered together. 
Today we are making available a guide to start this Salvation discussion with your kids. Maybe you also need a refresher course yourself – that is totally okay! It is always a good idea to remind yourself of what Jesus did for us over 2,000 years ago. Every time you dive into the topic you get another level of understanding that will impact your life. In this packet you will receive information on how to explain to your children what salvation is and why we need it. You will also receive a fun game, a sample prayer and a certificate to remember the day they accepted Jesus as their Lord and Savior.
We invite you to join us on this journey of creating family conversations in your home!  Download the handout today!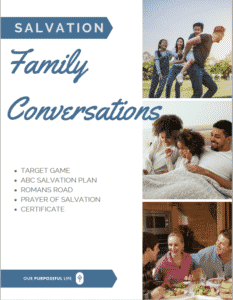 Did you know that we have lots of other good resources?  Check them out here:  Resources – Our Purposeful Life