Holidays are my favorite. I love the traditions. The decorations. The family time. I never tire of doing the same traditions over and over. Memorial Day is a holiday that has a special place in my heart. It is a day to remember those who have died so that we can experience freedom here in the United States. While our personal freedoms are being challenged right now, the truth is we are still a very free nation. But all the freedoms have come at a great cost.
Remember and Celebrate
I am frequently reminded of the great cost as I watch my sister's family. Her husband has willingly chosen to risk his life so that we can continue to be a free nation. He flies the KC-135 for the Air Force. He willingly goes into enemy territory to carry out the mission of the military, and does it often. My sister is then left at home with her kiddos to man the fort at home. They live a life of constant change and unknown, all so that we can enjoy life here on safe US soil. 
There are different ways we can honor the military. I also love watching all the flags be placed around the city. When we see them as we drive around, we talk with our children about what they mean. As we drive past cemeteries we see the flowers that are put on graves during Memorial Day weekend. Flags and flowers are symbols that help us remember what we are celebrating. 
Regardless of your views of the military and what we should or shouldn't do, Memorial Day is a day we should all celebrate. The lives of our military should be honored and we should be thankful for the ultimate sacrifice many of them paid. 
Pausing to Reflect
Memorial Day is also a day that I like to remember what God has done in my life. Every January as we start the New Year, Nathan and I reflect on the previous year and all that God has done. Then we dream, plan and set goals for the coming year. Around Memorial Day we take some time to pause and remember what God has done so far this year and refocus our lives to continue to pursue our set goals. 
God is all about pausing and remembering. He commanded the Israelites to stop multiple times a year to pause and celebrate a feast. It was a time where they gathered together to remember what God had done and thank Him for it. Nowadays we don't always celebrate the different festivals and feasts in the Bible, but if you go to church there is one thing that you do: Communion!
Communion
Communion is a time when we pause to remember what Jesus did on the cross. The bread and juice or symbols that help us know what we are remembering. He died so that we could live. He suffered so that we no longer have to suffer. It is also a time when we have the opportunity to pause and reflect on our own life. Is there anything that we need to repent of or change? We can also take this time to recommit to following Jesus and obey Him. It is also a time of thanksgiving and praise. 
Communion is more than just a mid-service tiny snack. Have you thought about what the bread and juice actually represent? Do you know what to do in the awkward moments during communion? Today we are giving away our next family conversation. In it we talk about what each of the elements mean and how God has asked us to do communion. It is in a simple format that you can use to teach your children. There is even a more in depth study for those of you with older children. 
Let's work together to help our children understand why we do things in the church service. This allows them the opportunity to have a heart connection with the Lord and encourage them to grow in their relationship with Him every time they partake of communion.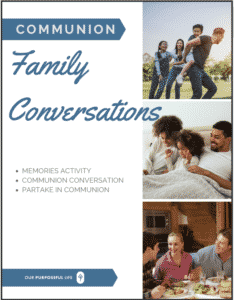 Great Song for Communion:
Remember by Maverick City and Upperroom