Always be joyful. Never stop praying. Be thankful in all circumstances, for this is God's will for you who belong to Christ Jesus. Do not stifle the Holy Spirit. Do not scoff at prophecies, but test everything that is said. Hold on to what is good. Stay away from every kind of evil. – 1 Thessalonians 5:16-22
"COVID has left me with trust issues." 
We were sitting at the kitchen table discussing our upcoming trip to Disney when Hannah made this statement.  You see, we were supposed to take this trip last May, right in the middle of the complete shutdown. We had been planning this trip for nearly a year, our Vacation Savings Jar was filling up with loose change, and our Disney Shirts had been delivered.  But as the days and weeks passed, it became clearer and clearer that there was no way that we would be going.  The shutdown wasn't going to be one month and done.  Disney would not be open, and we would not be flying anywhere!  Once it became clear that the trip would not be happening, we decided to reschedule it for a year later.  Surely that would be plenty of time for things to get back to normal.  Right?!?  Please?  
So here we were, a year later, and I can't really blame my daughter for wondering if the trip was actually going to happen.  After all, the last year has given us one cancelled event after another.  Sometimes the cancellation happened because of a positive COVID test.  Other times, it was for some illogical reason that we honestly never really figured out.  Time and again our plans were changed, and it seemed like anything bad that could happen probably would happen.  It became clear that we were not in control.  In fact, it felt like no one was in control! 
Exactly
As "Flatten the Curve" turned into a "Year of Flexibility", it uncovered a fact that makes me rather uncomfortable:  I am not really in control.  Oh, we have the illusion of control.  And I definitely control as much as I can, but at the end of the day, I am not truly in control of very much.  Our normal life does normally go pretty much as planned, but we are always just one small event away from everything being turned upside down.
So What Do We Do?
I remember the day that I looked at Nathan and said, "This isn't going to be over anytime soon, is it?"  He works in the medical field and was on daily briefings about the pandemic, and so he knew more of the stats and the realities behind the hype.  He sadly shook his head, and said that he thought it was going to take a long time to get past this, based on what he was seeing.  That's when I knew we needed to get a game plan if our souls were going to survive the shutdown.  There was no way we could get through a summer or a year of constant change and disappointments if we didn't shift into a new mindset.  So that's what we did.  And honestly, even though we are still wrestling with the knowledge that anything can be cancelled at any moment, I really think that we have come through the pandemic with some positive changes in the way we look at life.  Yes, we are soberly aware that schedules and plans and events will fail us, but we can face that reality with bold confidence because of some simple lessons we have learned. 
I feel like 1 Thessalonians 5:16-22 encompasses the lessons and truth we tried to teach the kids through that difficult year. 
Always be Joyful
We can choose to be joyful or we can choose to complain. Joy is not based on our circumstances but on our mindset. Quarantine brought us so much disappointment, frustration and sadness! It was easy to allow those feelings to overwhelm us. But when we had those moments we chose to stop and ask God for His perspective. 
During quarantine we had more family time. We ate meals together, played together and listened to each other. We were able to explore God's beautiful creation through bike rides and walks. We felt better because we were relaxed, well rested and energized by exercise. Our family experienced a whole lot of joy during that time. Our perspective on life is our choice. We want to continue to choose joy! 
What are you doing to choose joy in your daily lives?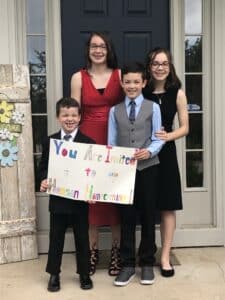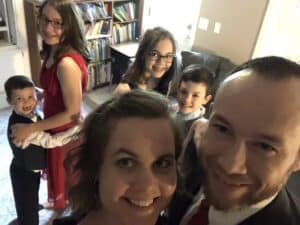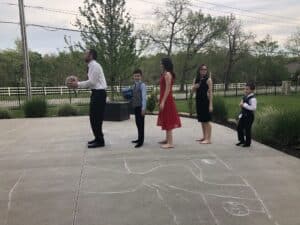 (In May of 2020 we decided to have a Hanson Homecoming Dance.  Socially distanced, meaning only our family.  We had a fancy dinner, did some swing dancing, and then decided to play Knockout.  Yes, our neighbors thought we had lost our minds!  And yes, Nathan did grow an Abe Lincoln beard.)
Never Stop Praying
Nothing brings us to our knees quicker than fear. Fear is a powerful emotion, and it has been bold and big this past year. Our list of things to pray about has doubled and tripled throughout the year, and our prayer life doubled and tripled to keep pace. We had more time available to pray, and we also made it a priority.  
I love the wisdom of this short verse: "Never stop praying." Another version says "pray without ceasing."  As our activities and life have started to get busier again, I want to make sure our habit of praying all the time does not get pushed back to the end of the list. God desires to DO life with us, not just get the recap.
In what ways are you putting safeguards in your life to make sure this prayer habit continues to thrive and grow?
Be Thankful in ALL Circumstances
This verse goes on to say, "for this is God's will for your life." What is God's will? To be constantly thankful. I don't know about you, but I am not constantly thankful. In the fall of 2020 when school was starting back up there was a lot of uncertainty. Our school started in person and even attempted to have a sports season, but it was clear that we were only one outbreak away from both being taken away. So instead of feeling like we were constantly on pins and needles, we decided to flip our perspective.
We focused on being grateful for each and every day we got to go to school and have practice or a game. We got in the habit of thanking God for each new school day. In our prayers we thanked Him for every practice and especially for every game. We lived each day to its fullest knowing that it could be all taken away in an instant. Isn't this how we should live each day in general? Our life is short and we have no idea how long we will be here. Shouldn't we wake up each day thankful for another day to live and serve the Lord?  Focusing on the positive instead of the negative helped us handle the hiccups along the way.
What small blessings are you thankful for today? 
A New Normal
In Part 2 we will finish the verse.  But until then, what good habits did you start in the pandemic that you want to continue?  What good life lessons did you learn that you want to remember?
You may also like: